Saving the Rocky Mountain and Mexican Gray Wolf at the California Wolf Center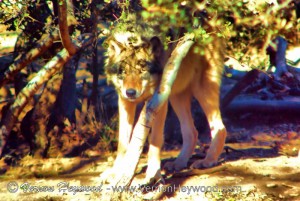 We visited the California Wolf Center on Sunday, November 16th. It's an education center, and wolf breeding program aimed at recovering the endangered species from the brink of extinction and reintroducing them into the wild. Two of the three types of wolves found in the United States can be viewed at the California Wolf Center, both are species of gray wolves: The Rocky Mountain gray wolf, and the Mexican gray wolf.
Rocky Mountain Gray Wolves at the California Wolf Center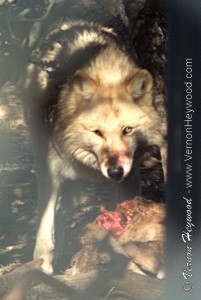 The Rocky Mountain grey wolves on display are strictly for educational purposes. Their numbers are not as critical as the Mexican grey wolf, and so they are better suited to the task, and will never be released back into the wild. As such, their diet varies from the Mexican grey wolf as well and they are permitted to eat a variety of donated livestock including male calves from local dairy farms, and horses that have aged beyond their service years. Neither are delicacies that wolves slated for being released into the wild should develop a palate for.
Mexcian Gray Wolves at the California Wolf Center
Mexican grey wolves, however, had reached such critical numbers that all of their captive population needs to be considered for release. At one point only thirteen Mexican gray wolves were left in the world. Of those thirteen, seven non-related wolves were selected for a breeding program to revive the population. Those initial seven wolves have been bred to bring the number of Mexican gray wolves to 83, that's quite an increase, but there is more needed to ensure their survival.
Breeding is selective to reduce genetic side effects from inbreeding, and to ensure the population maintains traits crucial to their survival, such as a fear of humans, and a taste for food found in their natural habitats, meaning no calves or horses.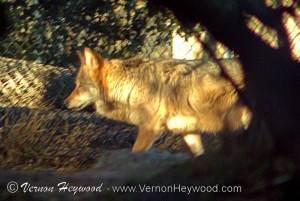 Oh, and neither species likes pork. It upsets their stomach. So the Three Little Pigs never did had a thing to worry about. Both species consume about 45 pounds of meat each week–about 22 pounds per the twice weekly feeding.
The odds of spotting one of these beautiful animals in the wild are extremely slim, so the California Wolf Center is an excellent place to catch more than a glimpse of these shy creatures in as wild a setting as possible. Their territory is fenced in, and there are some man-made den-like structures, but other than that, the terrain i all natural. They can hide behind the cover of trees and peer out at you as they woul in the wild, with their legs blending in with sun splotched tree trunks, and their fur camouflaged with the surrounding brush. The only difference is, that in the wild, you'd never know they were their, where as here, you know exactly where to look for them.
Visiting the California Wolf Center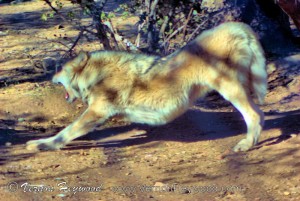 Unless you live in San Diego, it's quite a day trip from anywhere else in Southern California, so make a day of it and visit the historic town of Julian for some apple pie, Palomar Observatory, Anza-Borrego Desert State Park, or any other of the numerous attractions in the area and you'll be glad you did. Currently there is even a Groupon  for the California Wolf Center making a visit even more affordable.
Below is a complete gallery of the photos from our visit. Shooting with a short depth of field to try and eliminate the presence of the chain link fence, but also keep a moving target in focus was challenging, and I only ended up with 20 usable photos of the 163 I took.  But I feel I captured the best of how these wolves live on a day to day basis despite the challenging conditions.