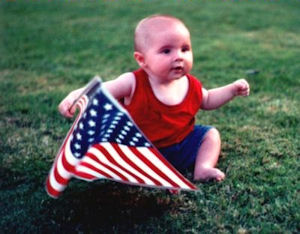 I'm a former Boy Scout, a Cub Scout Leader, a writer, a photographer, and an SEO analyst, but before all of that, I'm an American. The first thing I did this morning when I arrived at work was to update my profile picture on Facebook to one of my son as an infant waving the Stars and Stripes. I think it's the least we can do when we have men and women over seas risking their lives in honor of that same symbol of freedom. Apparently that's too much to ask of Google.
While the search engine giant can create special "doodles" for Pac-Man, Charlie Chaplin, Martha Graham (I had to look her up to even see who she was), and can even make way to fly the Russian and Philippine flag, it seems creating a special doodle for Flag Day isn't worthy of Google's attention as the business as usual logo adorned the search giants page today.
I recommend letting the folks at Google know how you feel about their over sight (or was it an intentional dissing of our symbol of freedom?). Below, find the address and phone number where you can reach Google. Take a moment to send a note or at least make a call, and please pass this along to everyone else who thinks the U.S. Flag has just as much right to adorn the Google home page as the Russian and Philippine flag does.
Google Inc.
1600 Amphitheatre Parkway
Mountain View, CA 94043
Phone: +1 650-253-0000
Fax: +1 650-253-0001